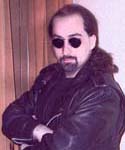 Tristan Trout
Publisher, Founder, CEO, and Chairman of the Bored
A freelance writer, Tristan has been many things in his time: A jouster in a renaissance fair, a writer of "girl copy" in a misogynistic pit of an "adult magazine," and, most recently, CORPORATE MOFO's editorial director. Equally at home drinking wine on the Left Bank or hoisting a pint in some dark hole in the East Village, Tristan is the creative spark behind the project.

Mistress Rowena
Staff Dominatrix and Sex Advice Columnist
Sometimes feared, always respected, Mistress Rowena's firm hand sets wayward hearts straight. with just a touch of discipline. If you passed her on the street, you wouldn't know who she is, but get on her bad side... wowie.

Backsight Forethought
Washington, D.C. Bureau Chief
In his spare time between writing gigs as a freelancer for various magazines and journals Bob is a professional officer in the United States Army. He learned the fine art of high-literature while attending those prestigious writing schools, the United States Army Airborne, Ranger, and Air Assault courses. He is a 7th Cavalry officer. When not traipsing around the planet serving in assignments in light and mechanized infantry in positions around the globe, he enjoys relaxing with a nice bottle of Riesling and discussing the finer points of the Hegelian dialectic and what it means to American politics today. He taught history at the United States Military Academy at West Point, was a "fellow" at the DC think-tank the Center for Strategic and International Studies in Washington, DC (which the people at Brookings refer to as "those lefties over at CSIS"), and is presently assigned to the Pentagon as a U.S. Army Strategist. He is also currently adjunct faculty in the Department of History at George Mason University where he enjoys twisting young minds. His books include Digital War (Presidio, 1999, and now available in Korean and Chinese language editions) and No Gun Ri, A Military History (Stackpole Books, 2002).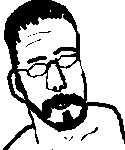 Mitchell "Tex" Missouri
Staff Writer
Born in Texas and now resident in New York, Mitch is a guerilla filmmaker and provocateur. His blog can be read here.